Lake Kivu Holidays – Things To Do & See along Lake Kivu in Rwanda and Democratic Republic of Congo.
Welcome to Lake Kivu a magical destination in Rwanda and Democratic Republic of Congo. It is where you can have safari holidays after the unforgettable experiences in both countries which include the gorilla trekking safaris, golden monkey tracking, nature walks, cultural tours, agro-tourism and mount hikes in the Virunga Massifs.
Lake Kivu is one of the African Great Lakes. It lies on the border between the Democratic Republic of the Congo and Rwanda, and is in the Albertine Rift, the western branch of the East African Rift. Lake Kivu flows into the Ruzizi River, which flows southwards into Lake Tanganyika.
We do offer various Rwanda Congo holidays from Lake Kivu and most of our day trips conducted go to Virunga National Park and most popular discounted trips include:
02 Day Nyiragongo Hike                03 Day Congo Gorilla Kibumba
03 Day Le Petit Bukima                 03 Day Le Petit Mikeno
The above trips are offered during high and low season and the prices varies depending on the season. You can go a lone or on group trips and once you book with us, we therefore, process for your tourist visa. Upon your arrival at the Grand Barierie you find your visa ready at the Virunga tourism office.
More so if you want to take a long trips in the Virunga National Park contact our travel consultant and within shortest period of time will get back to you with the well detailed program and the price quote based on the number of travel companion.
Tourist Attractions & Activities in Gisenyi, Rubavu and Karongi, Kibuye in Rwanda.
Rwanda is among the few East African countries in producing local and world's class teas and coffee from the previous units and factory.
Rwanda having rich volcanic soil helps to contribute to a higher tea quality. Most of the Eco tourist visiting Rwanda enjoy experiencing agro-tourism where they visit the farmers and they get to experience coffee and tea processing from garden to cup.
Even though farmers speak local language we tend to accompany these trips with our local guides to simplify the communication between farmers and the visitors.
While relaxing at the coastline of Lake Kivu you can take the kayaking experience a wonderful way to immerse yourself in the scenery viewing of the undulating Rwanda's and Democratic Republic of Congo landscapes.
The Kayaking experience can be arranged via the Kingfisher Journeys in Rwanda and then at the Democratic Republic of Congo side you can have this experience while staying at the Tchegera Tented Camp and staying here after your Gorilla Nyiragongo Adventure and always 2 nights are recommended to bring your body and minds together.
It is much amazing as Nyiragongo and Nyamulagira Volcanoes add to the drama by turning the night sky red with their glowing lava. Read More
The trail follows the eastern shore of the spectacular Kivu Lake and offers more than just a great hiking experience. Many small trails connect the different villages and depending on your guide, you might take a different route.
The main trail follows a dirt road that circles though the rolling hills. On this road, the trail is marked with directions.
This road allows doing the trail with a mountain bike as well. When hiking with a guide you will spent most of your time following smaller trails that cross trough fields, hills and Rivers.
Hiking from Kibuye to Gisenyi is 04 days. The hike is demanding, with large distances (one day of 30km) and quite some elevation.
You could make the hike easier however by spreading it over 5-6 days or shortening some days by taking a boat or moto taxi. The trail is in good condition and safe to hike, although a guide is recommend to take the smaller adventurous paths. Read More
While relaxing at Lake Kivu in Gisenyi or Kibuye you can take the bicycle rides along Lake Kivu which are very impressive and stunning panoramic views of the hilly landscapes and Lake Kivu as well as intimate encounters with rural Rwandans – touring on bicycle is so pretty experience. Read More
This project aims to improve the living conditions and reduce the social exclusion of the impoverished, marginalized indigenous Batwa potters of Rwanda.
The project trains potters to increase the quality and diversity of their products, boosts sales through increased access to high-value markets, and helps potters' build the capacity of their associations and increase their business know-how, with the potential to take over the management of the enterprise eventually. Read More
Taking a boat cruise along Lake Kivu is so fun and adventurous, but it's advisable you ride with a guide and wear a life-jacket if you can't swim. The Lake's maximum length is 89km, maximum width 48km, maximum depth 480m and has a water volume of 500km3.
This cruise takes you to the beautiful landing fishing villages and hot springs and from $ 80 you can go with the local communities boat which is a responsible concept supporting locals. More so those staying at Paradise Guest House or Paradise Resort you can use the lodge boat which is also relative affordable.
Then, for the luxury tourists in Rwanda and interested to visit Lake Kivu and want to take luxury boat cruise, Lake Kivu Serena Hotel offers the cruise with the posh speed boats. Today, with the renovation in Rwanda and the attraction of international luxury tour operators, new tourist services have been introduced. While on your luxury holidays in Rwanda and after gorilla trek you can experience the floating luxury hotel which cruises along one of Africa's great lakes, Lake Kivu in Rwanda. Read More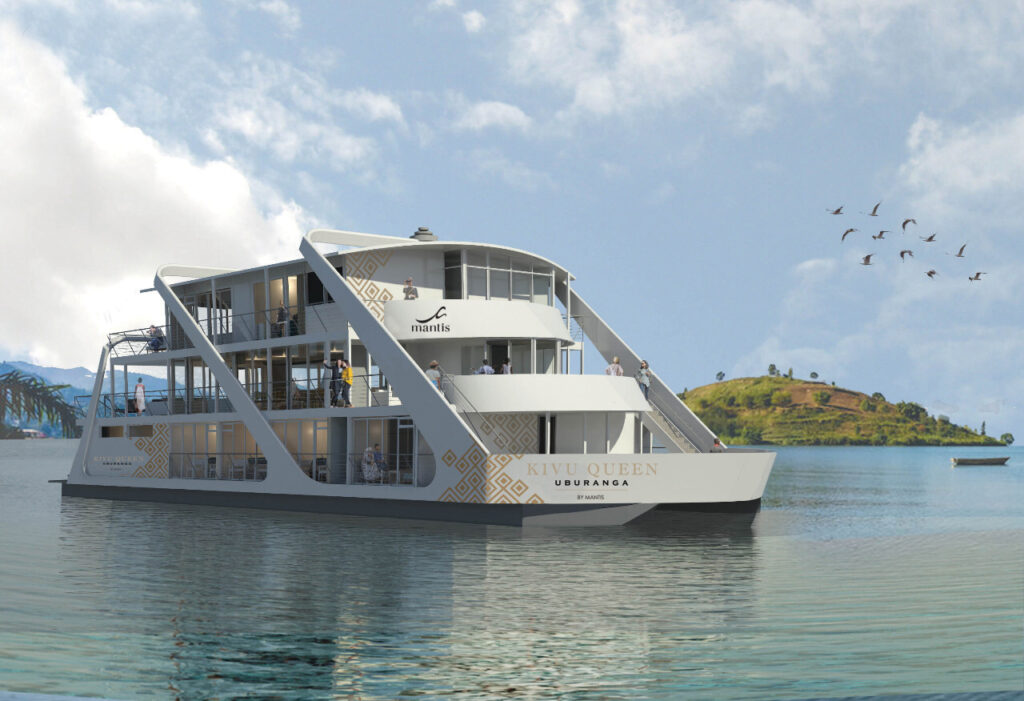 Lake Kivu lies in western border of Rwanda and Democratic Republic of the Congo. It's hot springs are one of them! From the local Rwandans you can get an unforgettable massage and just get them a tip and they will be appreciative! Read More
Accommodation
Lake Kivu Serena Hotel
Paradise Malahinde Guest House & Resort
Gorilla Hotels, Gisenyi
Stepp Hotel
Inzu Lodge
Discover Guest House
Nearby Tourist Places to Visit
Goma City
Virunga National Park
Volcanoes National Park
Kibuye City
Butare City
Nyungwe Forest National Park
Whoever is planning for a vacation in Rwanda and Democratic Republic of Congo after the gorilla trek or any other adventure.
Lake Kivu is the place to relax and it being destination with different type of lodges all travelers can visit Rwanda and you can relax here before you proceed to your next tourism destination in East Africa.