Mantis Collection Launch Kivu Queen UBuranga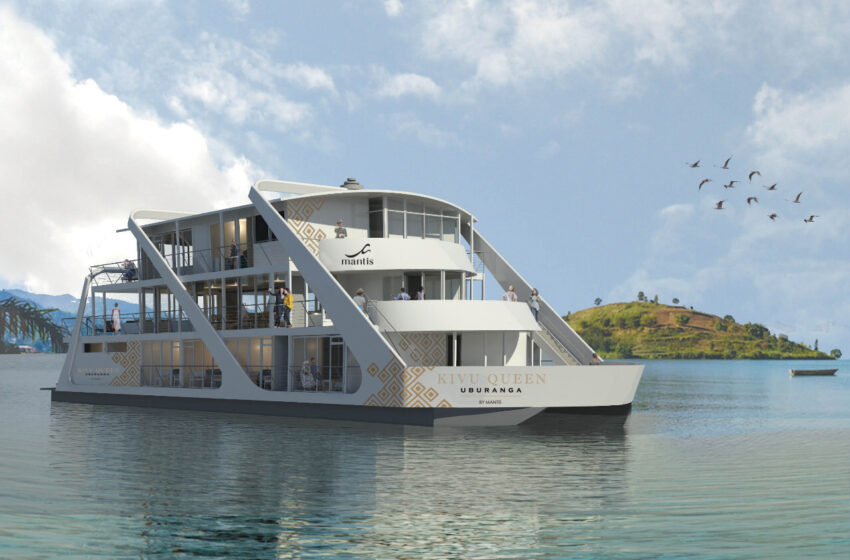 Welcome to Rwanda! The smallest, smartest and new luxury country in East African region. Though the Corona Virus has affected the tourism industry globally, Rwanda with it's partners has so far gone ahead to modernize the tourism service industry with the introduction of new facilities. The Mantis Kivu Queen Uburanga, a floating luxury hotel which cruises along one of Africa's great lakes, Lake Kivu in Rwanda.
With ten modern cabins, a swimming pool, restaurant, bar, and viewing deck with a hot tub; this unique boat experience will take you on a luxury tour in the mild equatorial montane climate. Escape to the onboard wellness center as the boat lays up alongside one of the most bio-diverse eco-zones of the world – the Albertine rift montane forests. In addition to guided hikes and bird watching, we provide insight into the quaint Rwandan villages through a variety of interactions based on culture and cuisine.
This intimate house boat boasts a local staff complement, enabling us to curate an exceptional experience for each guest and at the same time provide a much-needed income to the local community. In line with Mantis' community and conservation pillars; the Kivu Queen has been created to add value to the environment and communities of Lake Kivu.
Mantis Collection has taken the management of the Akagera Game Lodge in the Akagera National Park and now tour operators have found it easier to combine the Rwanda safaris with wildlife and Lake Kivu holidays. While in this park you will experience both day and night game drives looking for the African wildlife species. The park also offers boat cruises along the Lake Ihema and on this cruise you can have scenic view of the beautiful landscapes and birds.
Rwanda has rebranded from the middle class to the luxury destination and it is the new luxury tourist place in East Africa. Rwanda has welcomed new luxury hotel chains in the Kigali city and in the parks. Among the international luxury lodges include Singita Kwitonda Lodge & Kataza House, One & Only Resorts, Rwanda and the Bisate Lodge and Magashi Exclusive Camp managed by the Wilderness Safaris.
While on your luxury Safari in Rwanda you can experience the primate, birding and wildlife holidays and then at the end of your safari take the unique 2 day holiday along the Lake Kivu, Gisenyi – Rwanda. The Mantis flooting luxury hotel offers unforgettable holiday experiences and this goes at $990 per person sharing for 2 nights.