African Gorilla Journeys and Lake Kivu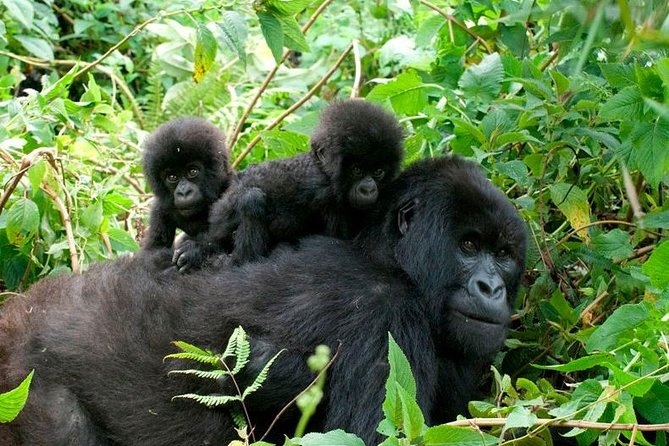 Go on a once-in-a-lifetime journey gorilla trekking through the forested slopes of Rwanda's Virunga Volcanoes in search of the world's largest population of wild mountain gorillas. Immersed in this dramatic natural setting, you will have the incredible opportunity to savour every second quietly observing intriguing interactions between gorilla family groups in this world-renowned national park.
A wildlife experience with the magnificent mountain gorilla is like no other. Savour every second as you watch them foraging, playing, teasing each other, eating or slumbering in an uncanny resemblance to ourselves. At times the trek to view them may be arduous, with steep rises covered in dense vegetation.
Inhabiting areas which are not easily reachable, gorillas reside where there is an abundance of food plants near the ground and think nothing of climbing incredibly lofty hills to get to them. Your formidable trek will be richly rewarded when you first set eyes on these extraordinary creatures. Try to spend as much time as possible in this phenomenal part of Rwanda, as it is a very special place.
The unique opportunity to see gorillas in their natural habitat is unforgettable, some even say life changing. Encounters with gorillas as they go about their daily lives are carefully managed, with expert trackers and guides leading small groups of tourists up bamboo-covered slopes to spend a precious and awe-inspiring hour just a few feet away from the gentle creatures.
There are twelve gorilla families living in the Volcanoes National Park, which are fully habituated, with a few others habituated solely for scientific research. The groups, or troops, consist of at least one silver back along with several females and youngsters.
Eight tracking permits are issued per troop per day at USD 1500 each, meaning the encounter is as intimate and as unobtrusive as possible. With only 96 permits available each day in Rwanda, it is highly recommended to book in advance.
After all is maximized on a gorilla safari, go relax and refresh at Lake Kivu. Known for its immaculate beaches and warm, safe swimming waters, Lake Kivu is one of Africa's Great Lakes and a wonderful destination to go and relax after a gorilla-trekking safari. You can enjoy superb conditions for canoeing and boating on the lake, while taking in the mesmerizing views of the surrounding mountains.
One of the African Great Lakes, Lake Kivu lies on the border between Rwanda and the Democratic Republic of Congo, nestled in a valley and surrounded by steep green terraced hills.
With white sandy shores, shady bays and small fishing villages to explore, the picturesque lake provides the ideal setting for a relaxing break.
There is no better place to bring a mountain gorilla safari to an end than at Lake Kivu where you can swim – there is no danger from hippos, crocodiles or even Bilharzia – you can lounge on sandy beaches and take a dip in the lake and enjoy a refreshing swim in Lake Kivu. For most it is simply a place to relax and chill out, while other take nature walks, go birding in a boat or on land, explore some of the islands, the nearby hot springs and more. There is a variety of hotels to enjoy from budget to exclusive up-market lodges and hotels.