Encounter Gorilla Safari and Lake Kivu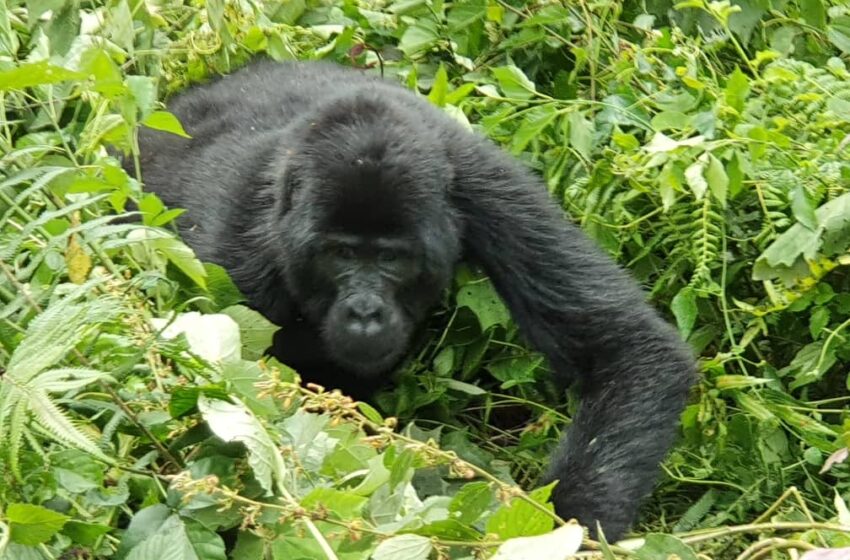 Rwanda is the major gorilla safari destination in Africa, and gorilla trekking is always climaxed with a visit to the amazing Lake Kivu. This kind of tour concentrates on the northern and northwestern parts of Rwanda, approximately at the border of Rwanda and the Democratic Republic of Congo. This region settles into the deepest part of the Albertine Rift, which has influenced much of the landscape formulation of the region.
Write about your new travel experience, visit Rwanda, and trek the rare mountain gorillas. This is the most popular African wildlife experience of its kind. The majestic walk through the volcanic tropics leads into gorillas' traps, which dwell deep in the forests. So, though the adventure involves a lot of hurdles in searching for the giants, it's continued to top the list of East African enchanting adventures.
Wondering about the perfect spot to station after encountering your gorillas at Volcanoes National Park? The place is Lake Kivu. Don't worry about what; this suggestion is probably the best of the calls for the adventures. After the exhausting flash into the wilderness, you need to create another jiffy and relax under the delights.
Nature of Rwanda Gorilla Safaris
After securing a mind to trek gorillas, you have to ensure you have a permit that allows you to access the gorillas. The trek starts earlier in the morning, and guests have to be at the park headquarters for the trekking briefing. The briefing lasts for 30 minutes. Get groups into 8 individuals to trek a single habituated gorilla family. By 8 a.m., with the help of an armed ranger guide, we will enter the forest for a wilderness search. The trek can last anywhere from 30 minutes to 6 hours.
The trek continues through the authentic nature of volcanoes, thick forests, valleys, and highlands until your trekking gorilla group surfaces. The trek featured muddy, windy, and at times cold forests that were misty and slippery during rainy times. Through all these, the end is having the gentle giants in your sight, and watching them makes you realize that it's a once-in-a-lifetime moment. Gorilla trekking is a once-in-a-lifetime jungle experience that cannot be encountered anywhere else except in Uganda, Rwanda, and the Democratic Republic of the Congo.
When you reach the gorillas, you have an hour in their presence. Enjoy this life stature where gorillas entertain you. Sometimes the toddlers and juveniles come close to you and can even touch you. Many of the guests on the trek testify about the gorilla touch and entertainment.
About Lake Kivu
This amazing Lake Kivu lies within the African Great Lakes Region. It stands as an outstanding suggestion for guests trekking gorillas in Volcanoes National Park. The lake shares borders with Rwanda in Gisenyi and the DR Congo in Goma. Lake Kivu pours into the River Ruzizi, which pours southward into Lake Tanganyika.
Lake Kivu is about 42km long and 50km wide, with an irregular shape, and is estimated to have an area coverage of about 2,700 km2. Its Rwanda's largest lake and Africa's eighth largest lake, elevated at 1,460 meters above sea level. Lake Kivu still hosts chances of experiencing volcanic eruptions almost every 1000 years. It has a mean depth of 220 meters, making it the world's twentieth-deepest lake.
The lake hosts the 10th largest island "Idjwi Island.", among the closest popular towns around the lake are Bukavu, Kabare, Kalehe, Sake, and Goma, which are among the Democratic Republic of Congo settlements on the lake's shore, as are Gisenyi, Kibuye, and Cyangugu in Rwanda. It's a freshwater lake with relatively poor conditions, with about 28 species described; 15 of the species are endemic, and there are also about 20 undescribed species.
Magnificent green mountains surround the lake, forming deep emerald-green waters. Deforestation is the greatest threat to biodiversity around Lake Kivu's banks. These extend to particular urban wastes, soil erosion, and misuse of agro – chemicals, improper fishing, and insufficient sewage water treatment.
Connecting the gorilla trek with Lake Kivu
When in Kigali, you have to get to Volcanoes National Park in Ruhengeri. The park is accessible from Kigali by road within a period of 2–3 hours. After the amazing Rwanda gorilla trek on the same day and drive back to Kigali after the trek.
You will be required to arrive at the National Park headquarters in Kinigi by 7:00 am; therefore, if you hope to trek gorillas for one day, you have to wake up very early for your journey so that you are on time. However, there isn't any public transport from Musanze to the headquarters of the National Park at Kinigi.
What to do when visiting Lake Kivu
A warm swimming 
Following your morning hike or bike ride, you can cool off with a swim at Lake Kivu. The lake is free from crocodiles, hippo, and bilharzia, which gives unlimited comfort for holidaymakers who are wishing for quite a good moment within the fresh waters of Lake Kivu. After the tremendous and exhausting gorilla trek at Volcanoes, don't hesitate to spare some good hours to cool off at the lake.
The water in Lake Kivu has a cool temperature, so it is perfect for those who want to jump and relax in the lake to cool down. Lake Kivu has several beaches along the lake shore with fine sand and mild sun to enjoy after a great swim in the lake.
Sports fishing
Sport fishing at Lake Kivu is a recreational game of catch and release. The lake is home to a variety of unique and versatile fish species, like blue-spotted tilapia, Nile tilapia, Lake Tanganyika sardine, and redbreast tilapia, among others. So, to make the sport of fishing a little more interesting, the game continues with the probability of what species to catch.
Boat trips
The fact that there are no crocodiles and fresh, calm waters makes it possible for a boat launch. Guests can customize their boat ride with the limited number as they wish and even have a boat take them to different islands on the lake, like Napoleon Island and her famous fruit bats and Amahoro Island, also known as One Bar Island. For couples, consider taking a romantic evening ride while watching the sunset or even sharing a meal floating on the water and surrounded by countless scenic features.
Birding
Around the lake, there are several aquatic and land bird species. For birders, it's quite a safe place to quietly watch a certain number of bird species. It is a delight for bird lovers to see unique species like the African woodpecker, Sacred Ibis, Yellow – throated Green bul, Knob-billed Duck, and Ashy Flycatcher, among others.
Where to stay at Lake Kivu
A safari trip to Lake Kivu is well known for refreshments; what is expected here are places to relax. There are several spots designed to offer that relaxing ambiance to travelers of varying calibers. When visiting Lake Kivu, expect to find luxurious and exotic lodges and hotels, mid-range and budget, with descent and comfortable hospitality worthy of a moment of stay.
Among the lodges and hotels to stay at are: Lake Kivu Serena Hotel, Cleo Lake Kivu Hotel, Kivu Hilltop View Resort, Inn on the Lake, Kivu Paradise Resort, Palm Beach Resort, and Paradise Malahide, among others.