Encounter Gorilla Tours Holidays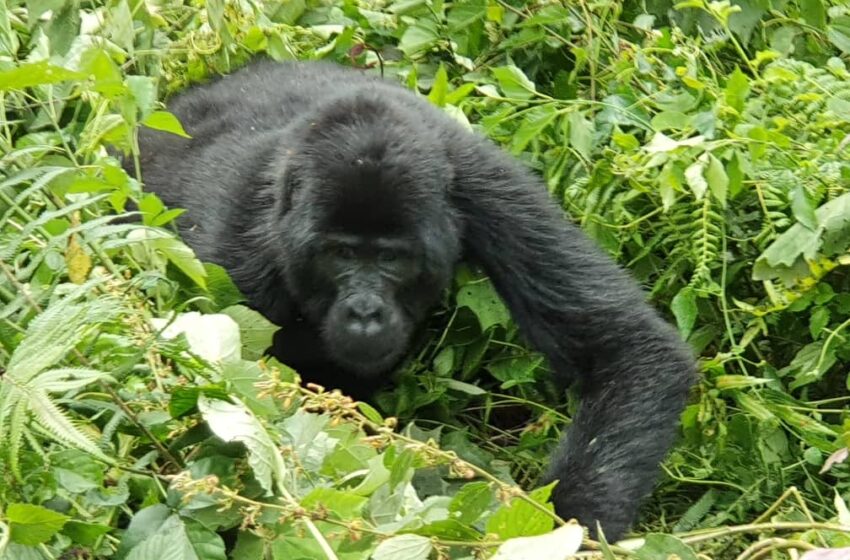 While on this gorilla safari holiday takes you to three countries. Uganda, Rwanda and Democratic Republic of Congo are amazing countries to visit for a complete wildlife safari. In terms of biodiversity, they offer the full tour package. Visitors are always impressed with the weather and stunning scenery. They are the only countries where you can go see the endangered silver back gorillas and learn about gorilla conservation programs during your travel. Democratic Republic of Congo is the only country where you can see both silver back mountain gorillas and lowland gorillas.
A gorilla safari takes you hiking through dense rain forest to meet face to face with wild gorillas in Africa. Trekking to see silver back gorillas in Africa or participating in the gorilla habituation experience are special and once in a lifetime experiences. You will be having a close encounter with creatures that look and behave like we humans.
Tracking gorillas in Africa is a year round activity but the periods just after the rains are perfect for the adventure. During a gorilla safari in Africa, the decision on which gorilla family to track depends on your overall fitness and preference. Some gorilla groups live near the starting points for tracking while others go deeper in the forest.
Gorilla tours in Uganda, Rwanda and Congo can be arranged for individuals, families, large groups and honeymooners. Honeymoon safaris in East Africa involve special treats for lovers who want to spend their honeymoon experiencing Africa's beautiful nature or taking part in activities like gorilla trekking.
Imagine spending time with your loved one away from the hustle and bustle back in your city while watching breath-taking wildlife, relaxing on Lake Kivu, enjoying the natural green African vegetation and landscape under the stars.
Mountain gorilla tracking is an exciting activity but requires one to be well prepared and in good physical form to make it even more memorable. We recommend that throughout the activity, visitors should follow the lead and instructions of the park Rangers. Only 1000 mountain gorillas remain in the wild. They are endangered and need to be protected from sicknesses or anything that may threaten their numbers.
You need to have a yellow fever vaccine to be allowed into Uganda, Rwanda or Congo. Foreign visitors may also need a visa to enter the borders of the different gorilla tracking countries.
The park authorities will ask for your passport after the briefing and before going into the forest to confirm your identity and ensure that you are illegible for gorilla trekking.
Only eight people may visit a gorilla group in a day. This not only helps reduce the possibility of disease transmission but also minimizes disturbances to the behaviour of the gorilla group.
You cannot track mountain gorillas when infected with transmittable diseases. The Rangers have the right to stop you from going ahead with the group if they feel that the gorillas could be infected.
Volunteer to remain behind if you are not feeling well or suspect that you have a contagious disease. You will be refunded back the money you spent on the permit or be given another opportunity once you are cleared and are in good health.
Keep the park clean and free of rubbish that could cause disease to the gorillas. Tourists are required not to drop handkerchiefs, used tissues or canisters. The primates may also swallow the items which could cause complications.
In case you wish to go to the toilet, let the guide know at once. They will dig a hole for you that you should cover after to avoid spreading disease to the gorillas.
Listen attentively and follow what the Rangers tell you. Don't talk loudly as you trek so as not to miss opportunities to spot birds and other forest animals. While with the primates maintain a low tone. If you have to talk, do so in whispers. Loud noises may frighten the gorillas especially if they have just completed the habituation process. If bitten by an insect or safari ant, do not shout and alert the gorillas. They may leave before the one hour has elapsed hence reducing on the amount of time spent with them.