Rwanda Gorilla and Lake Kivu Holidays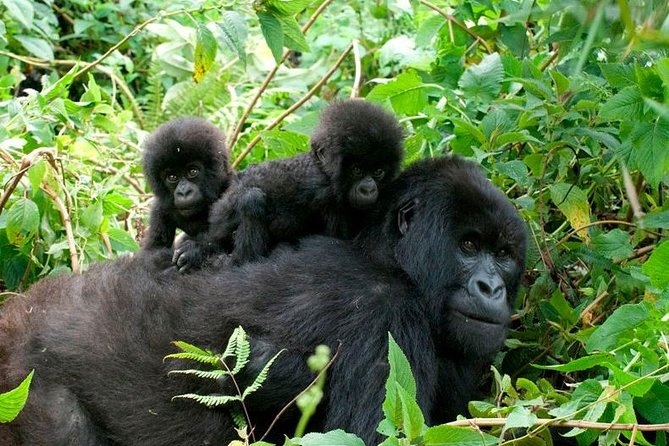 Rwanda holidays will always feature four important aspects: people, culture, national parks and gorilla watching. It's most celebrated for its gorilla populations and strictly managed safaris in Volcanoes National Park, one of the most enriching African wildlife experiences on the planet today.
Rwanda is taking the low volume, high price approach when it comes to wildlife tourism – some of Africa's most exclusive lodges have opened here. This approach is good for conservation, but it does mean that it is simply too expensive for some.
Volcanoes National Park, in the North of the country and part of the Virunga Mountains on the border with the Congo and Uganda, is where the trekking takes place. Stunning vistas abound as you trek through jungle to find the Silver back Mountain gorillas. There are several gorilla families and trackers head out early, before your trek begins, in order to locate them.
Knowing where the gorillas are in advance allows the park rangers to assign appropriate gorilla families to the small groups who head out so you can request a closer family if you feel you aren't as fit as you maybe once were! It should be noted though, that any gorilla trek does require at least some stamina and good mobility.
The time taken to track the gorillas can take as little as half an hour to as much as 5 hours! Your track will be an exciting journey along forested slopes, entwined vines, bushes and bamboo before you eventually reach the gorillas. As you trek your guide will point out signs of previous gorilla activity, including dung, nests and chewed bamboo shoots.
Lake Kivu is the perfect place to chill out after the tiring gorilla trekking safari and hiking of the volcanoes. For most people, it is simply a place to relax and rebuild energy.
Known for its immaculate beaches and warm, safe swimming waters, Lake Kivu is one of Africa's Great Lakes and a wonderful destination to go and relax after a gorilla-trekking safari. You can enjoy superb conditions for canoeing and boating on the Lake, while taking in the mesmerizing views of the surrounding mountains.
You can take a nature walk, go birding on a boat ride, explore some islands, visit the nearby hot springs, go fishing, or visit the Congo boarder. You can also visit the Ndaba Falls or take a walk around Kibuye town to acquaint yourself with the lifestyles of the inhabitants.