Rwanda Beach Holidays at Lake Kivu – 01 Week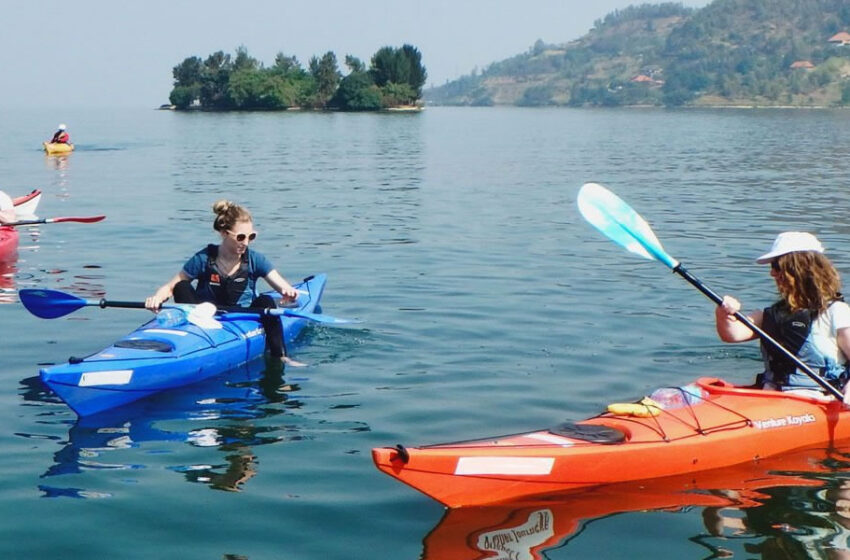 Lake Kivu is located in western Rwanda and is shared with Democratic Republic of Congo with beautiful beaches, great tropical weather, and beautiful scenery. The lake provides the ideal place for rest and recuperation while on your safari in Rwanda. Some of the activities on the lake include, sunbathing, swimming, and water sports like Kayaking, wind surfing & canoeing.
You can visit Lake Kivu as part of your Rwanda tour itinerary or on for a weekend holiday if you work and live in Rwanda. It is an extraordinarily beautiful inland sea enclosed by steep, green terraced hills and Islands.
Lake Kivu covers most of the western border of Rwanda with main tourist areas being Gisenyi, Kibuye, and Cyangugu, which lie along the Lake shores. Gisenyi is the most developed of the sites and is less than an hour's drive from the volcanoes national park and 3 hours' drive from Kigali. It is set on a sandy beach lined with swaying palms and colonial-era hotels.
Kibuye is located between Gisenyi and Cyangugu in the center along the shores of Lake Kivu. It has tourist activities centered on a modern lake-shore guesthouse overlooking pine-covered hills, and boat trips from here to Gisenyi. Cyangugu is the least developed for tourism and different from the other two.
You can choose to take a boat ride in the traditional dugout canoes and listen to the 'sea stories" of the fishermen and even participate in the fishing. The place is teaming with water birds like pelicans sailing, Grey crowned cranes, pied and malachite kingfishers above the shore waiting to catch their next meal.
The Lake is safe for swimming and boating, as it does not contain bilharzia, crocodiles, or hippos. One can pass easily from village to village along the shores of the lake and witness the fishing lifestyle of the locals. A visit to the Lake will serve as a well-deserved place to rest and relax for a full week.
The Lake shore is in some places sandy, others rocky, but in all places one can marvel at the clarity of the lake floor and watch the many fish that swim near the surface. Enjoy a picnic near the shoreline under lazily waving palm trees, or take a dive off a pier into the clear, cool water.
Enjoy sea kayaking near Kibuye, and paddle your boat through the quiet waters to Bat Island, inhabited by 5 million fruit bats, or Peace Island, a quiet space for thought and relaxation. Nkomo and Bugarama Islands are home to friendly locals who love to talk with visitors to the Lake and show off their homes, families, and culture. You can also find pelicans, kingfishers, and cormorants in the nearby wetlands. At any restaurant, you can enjoy local delicacies.